MEDIA ~ Images & Videos
.45-70 Sharps Shot Sequence
August 20, 2020 – Testing out PPB cartridge loads at 200 yards. Pedersoli .45-70 '74 Sharps with barrel and paper patch chamber relined in chrome moly by Lee Shaver. The cartridge build – Starline fire formed brass, Federal Match LR primer, case flash hole reamed and a newsprint wad added inside the case, 78.25 grains of Swiss 1-1/2F drop tubed and with light 1/16″ compression, .060″ LDPE wad, BACO Jim444530E slick with 1:16 alloy that drops at 528 grains, Seth Cole 7# Canary paper patch. This video shows the last 5 shots taken as fast as I can load, aim, and fire. My aiming and firing concentration was not on game, hopefully maybe next week. Just under 2MOA average for seven 2 shot groupings, with the largest spread 6″ (3moa) and the smallest was under one inch, the average was 2.91″. not at all good, but not too bad. At least they were all in the black 🙂 Target hit sequence is shown at the video's end for all 15 rounds fired, which is half the total rounds fired for score at our Spring/Fall Buffalo Rifle match. If the 15 shots fired were taken as score, the total would be 141-3x out of 150.
TARGET CAMERAS
Setting up a target camera at the Cherry Ridge 200/300 range. The Caldwell system separates the camera from the transmitter, so increasing the tripod height allows the transmitter to rise above the pit roof while the camera is under the roof and aimed at the elevated target face. The transmitter is off to one side and clears the target frame by about a foot and is seen just peeping out over the pit roof line. Needless to say, you need to know that your gun will print somewhere on the four foot target frame at the least! This works very well and the signal is transmitted to your cell phone Caldwell target camera app. MUCH better than a spotting scope as the hits are clear and easy to see no matter what the distance, glare, haze, or mirage.
The animated GIF image below is exactly what you see on your cell phone. The app won't do video but will take images of each shot. In the sequence below, the top ten numbered rounds were test "plinking" cartridges using 405 grain slick PPBs. The lower ten lettered rounds were my own custom match grade built cartridges using 16:1 alloy 523 grain BACO Jim443520E slick PPBs, 78.25 grains of Swiss 1-1/2f under a .060″ LDPE wad. The rifle is a Pedersoli .45-70 Sharps '74 that's chamber and barrel modified for paper patch cartridges by noted gunsmith Lee Shaver and sports a 30″ chrome moly lined octagon barrel with Lee Shaver Super Grade long range vernier soule rear sight and a Lyman globe front sight. Not too shabby at 200 yards sitting off cross-sticks. Notice the fly moving around on the target face between shots D, E, and F – that's the level of definition seen at any distance out to 1000 yards for this camera. Target cameras rule and make spotting scopes inferior and obsolete!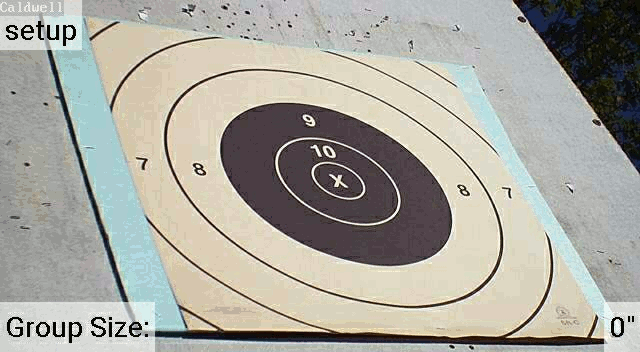 Rogue Buffalo Rifle Match #2, September 17th, 2016
Cherry Ridge 200 yard range – a beautiful sunny late Summer day!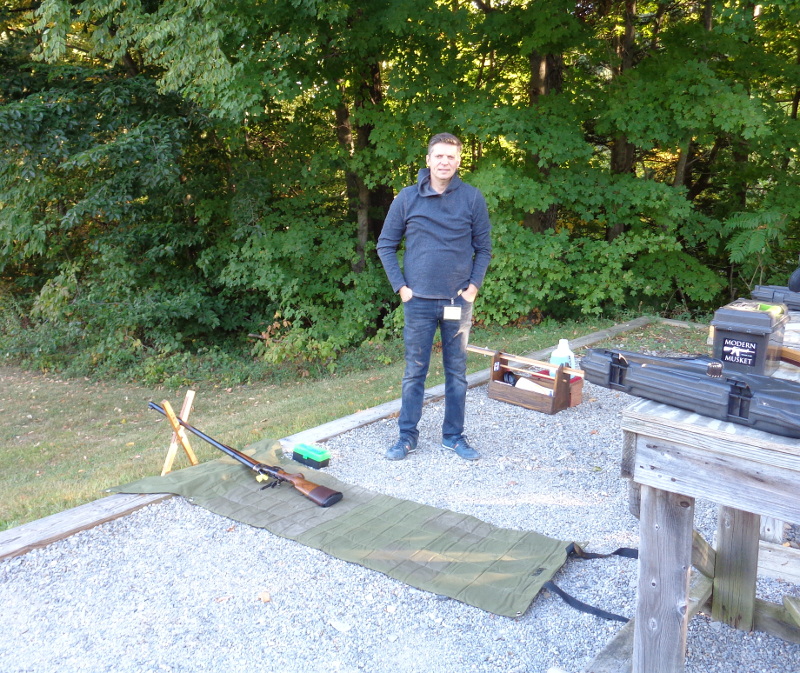 Rogue Buffalo Rifle Match #1, August 13th, 2016
Cherry Ridge 200 yard range – beastly hot 'n' humid!